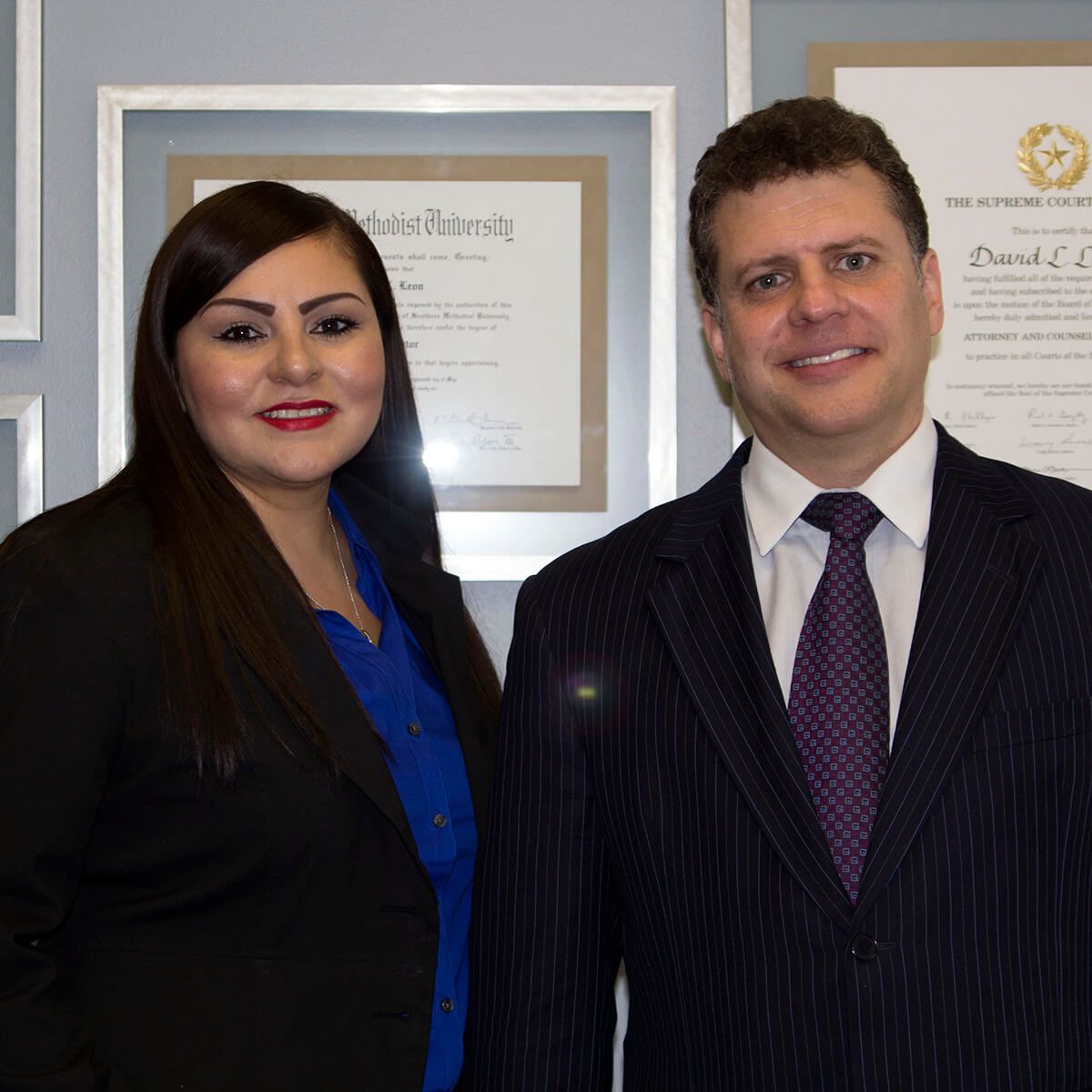 Choosing a Lawyer in Dallas, Texas
It's difficult to entrust your freedom or financial well-being to someone else, and The Law Offices of David L. Leon PC understands you're putting everything in the hands of someone else. This is why attorney David Leon and his staff are dedicated to a personal approach to your matters.
David provides cost-effective, expeditious legal service representing Texas businesses and individuals in an array of disputes and other legal matters.
(Pictured: Attorney David Leon with Legal Assistant Anna Guzman)
The Law Offices of David L. Leon PC has extensive experience in complex commercial matters that require the knowledgeable guidance of an attorney. David works with clients in issues of securities, shareholder disputes, trade secret litigation, real estate law, insurance, succession plans, and other matters. He also helps people with more direct problems such as divorces, personal injury cases, and immigration.
David's office works with clients to help them afford the legal services they need most. David provides high-quality legal representation at manageable rates. The Law Offices of David L. Leon PC handles cases for clients but does not refer clients to other attorneys or firms.
To schedule an initial consultation regarding business counsel or a case analysis, contact The Law Offices of David L. Leon PC today.
How We Protect You
Step 1: Meet
Taking legal action can often be uncomfortable. David sits down with you to create a relationship, learning about you and your situation while you get to know him.
Step 2: Analyze
David examines the details you've provided and breaks down your case to understand your options.
Step 3: Strategize
Derived from the information you've given him, David establishes strategic options to advance your case.
Step 4: Act
We put your strategy into action, seeking an expeditious but favorable outcome for your claim or defense.
Swift Action
The Law Offices of David L. Leon PC makes it a priority to treat your case with urgent care. We quickly move on your behalf in order to save you time and money. Our entire aim is to spare you as much time away from your day-to-day matters as possible.
A Diverse Firm on Your Side
We handle a variety of legal matters, and some of them may not appear on this website. David or one of our bilingual staff members may be able to assist you, or we may refer you to another lawyer or service. Be sure not to divulge any confidential details to this firm about your case until we have checked for conflicts of interest.